News on the Exploding current account deficit from a Financial Times article found
Here.
Excerpts:
The US current account deficit suffered its fastest quarterly deterioration in the final months of last year, ballooning to a record 7 per cent of national income.




The worse-than-expected deficit rekindled fears among economists that global imbalances would undermine the dollar.

The deficit hit $225bn (€187bn, £129bn) in the fourth quarter, up from $185.4bn in the third, which was 5.9 per cent of gross domestic product. For 2005 the deficit was $805bn, 6.4 per cent of national income.

"The bottom line is that a current account deficit of this unparalleled magnitude is unsustainable and there is no hope of it being painlessly resolved through higher exports alone," said Paul Ashworth, an analyst at Capital Economics...


...Economists suspect that support for the dollar may start to ebb in 2006. Funding the deficit in 2005 was helped by the American Job Creation Act, which included a provision temporarily allowing US multinational companies to repatriate foreign profits at a lower tax rate.

The US also benefited from a rising interest rate gap against the eurozone and Japan. Neither of these boosts are likely to be present in 2005.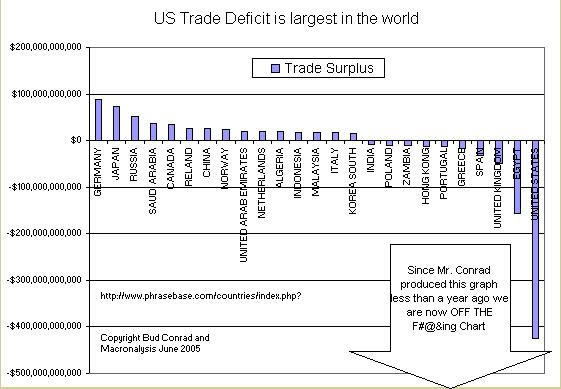 News on falling retail sales rom a Reuters article found
Here.
Excerpts:
WASHINGTON (Reuters) -

U.S. retail sales fell a larger-than-expected 1.3 percent in February as auto sales plunged

and consumers took a breather after spending big in January, a government report showed on Tuesday...

...The retail sales report showed demand outside the auto sector was down 0.4 percent in February, in line with analyst expectations,

in the largest decline since April 2004.

Sales of motor vehicles and parts dropped 4.6 percent last month, the biggest drop since August 2005, after a 4.2 percent surge in January, the report showed.

Sales of furniture, clothing, electronics and appliances all fell. Gasoline station sales fell 1.6 percent as gas prices eased. Retail sales excluding gasoline were down 1.3 percent in February after being up 2.8 percent in January.





Bud Conrad's excellent article on why these insane deficits are unsustainable from which I borrowed the graphs can be found Here.