Firefighters Struggle to Control Skyscraper Fire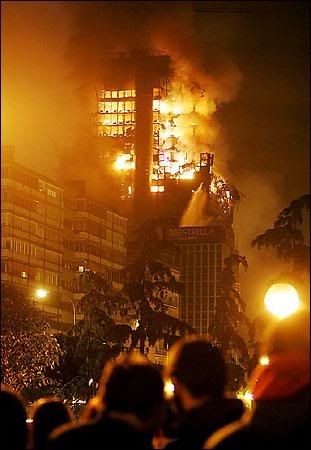 The Windsor Building in Madrid Burns to its Frame

Firefighters shot jets of water onto one of Madrid's tallest office buildings this morning, fighting to control a blaze that burned all night and threatened to bring down the 32-story skyscraper.
"We are battling Madrid's most important fire in its history," said mayor Alberto Ruiz-Gallardon speaking from the scene at about 9am (0800GMT).
After burning ALL NIGHT The Windsor Building in Madrid is still standing (albeit 6 stories shorter) but was able to withstand a much more intense blaze than WTC 1, 2 & 7 withstood without collapsing. Not only did The Windsor Building remain standing but it did not exhibit any of the other anomalies that WTC 1, 2, & 7 experienced (No eyewitness reports of bombs going off, no explosive ejection of shattered cement and structural steel, no cloud of pulverized cement dust 3X the size of the original building) and I'll bet you a dollar that the remnants of the Windsor building are not placed under guard, made unavailable to forensic inspection, and then carted away ASAP to be melted into scrap like its American cousins...
Compare this picture to the one above...

You don't need a Ph.D in Physics for this one...

Soooo.... Can any of you "Coincidence Theorists" explain: WHY AND HOW DID WORLD TRADE CENTER 7 COLLAPSE PERFECTLY AND SYMMETRICALLY INTO ITS OWN FOOTPRINT ???