Getting Agnostic about 9/11: A Society of Non-believers Questions 9/11
From The Interview with David Ray Griffin:
LA Times:
What would constitute a "smoking gun" against the official 9/11 account?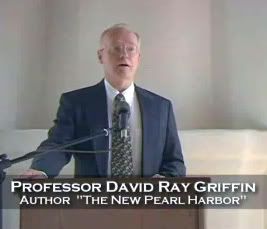 David Ray Griffin
: There are many. By just ignoring them, the 9/11 commission implicitly admitted they couldn't answer them. The towers coming down into a pile only a few stories high is a smoking gun. Many laws of physics had to be violated if the official story about the collapses is true. [The collapses] had all the earmarks of a controlled demolition by explosives. One of those is total collapse into a small pile of rubble. The fact that Building 7 [a skyscraper near the towers] collapsed when it had not been hit by an airplane, and collapsed in seven or eight seconds, that's a smoking gun. The fact that standard operating procedures were not followed that morning, and we've gotten three different stories now by the U.S. military as to why they did not intercept the planes, that's a smoking gun. The Secret Service leaving the president and themselves wide open to being attacked by [not responding immediately], that's a smoking gun. I can't say one is bigger than the other. You've got six or seven that are equally big.