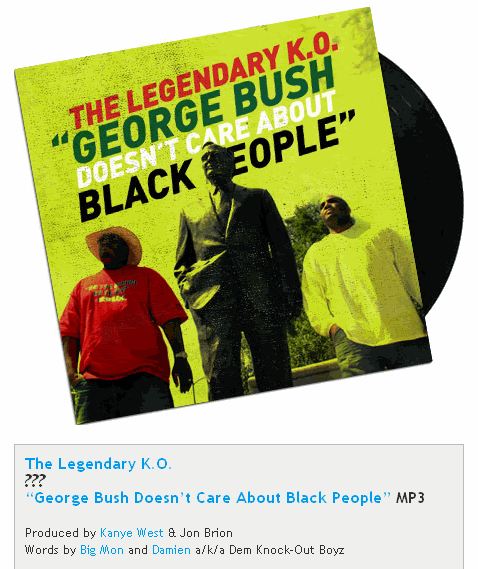 This one is a MUST SEE!!
Etienne gives
George Bush Don't Like Black People
2 Thumbs Up!!!
One of the PHATEST multimedia statements against the Bush regime, the Iraq War, and the intentionally botched FEMA post-Katrina "rescue effort". Powerful Images and superbly intelligent rhymes using instrumentals from Kanye West's
Gold Digger
The Empire takes a full-on Category 5 Hit from Kanye West & The Legendary K.O.
Nicely Done!! Etienne
Get the Uncensored Video Here:
http://www.archive.org/download/subMediaGeorgeBushDontLikeBalckPeopleWMV/bush_dont_like_black_people.wmv
Get the Uncensored MP3 for your iPod Here:
http://www.archive.org/download/George_Bush_Doesnt_Like_Black_People/GeorgeBushDoesntCareAboutBlackPeople.mp3
Get the Radio Edit MP3 for your iPod Here:
http://www.archive.org/download/George_Bush_Doesnt_Care_About_Black_People_Radio_Edit/GeorgeBushDoesntCareAboutBlackPeopleRadioEdit.mp3