http://www.rense.com/general69/truce.htm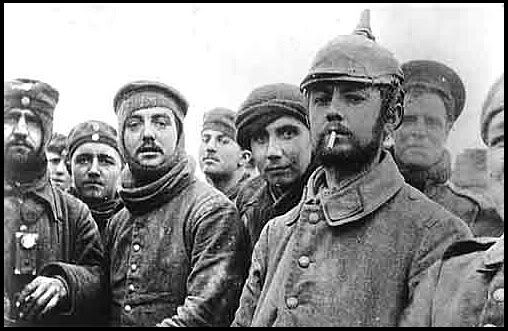 On Christmas Day, 1914, in the first year of World War I, German, British, and French soldiers disobeyed their superiors and fraternized with "the enemy" along two-thirds of the Western Front. German troops held Christmas trees up out of the trenches with signs, "Merry Christmas." "You no shoot, we no shoot."

Thousands of troops streamed across a no-man's land strewn with rotting corpses. They sang Christmas carols, exchanged photographs of loved ones back home, shared rations, played football, even roasted some pigs.

Soldiers embraced men they had been trying to kill a few short hours before. They agreed to warn each other if the top brass forced them to fire their weapons, and to aim high.



A shudder ran through the high command on either side. Here was disaster in the making: soldiers declaring their brotherhood with each other and refusing to fight.



Generals on both sides declared this spontaneous peacemaking to be treasonous and subject to court martial.

By March, 1915 the fraternization movement had been eradicated and the killing machine put back in full operation. By the time of the armistice in 1918, fifteen million would be slaughtered.

Not many people have heard the story of the Christmas Truce. Military leaders have not gone out of their way to publicize it.

On Christmas Day, 1988, a story in the Boston Globe mentioned that a local FM radio host played "Christmas in the Trenches," a ballad about the Christmas Truce(MP3 Here), several times and was startled by the effect. The song became the most requested recording during the holidays in Boston on several FM stations.

"Even more startling than the number of requests I get is the reaction to the ballad afterward by callers who hadn't heard it before," said the radiohost. "They telephone me deeply moved, sometimes in tears, asking, `What the hell did I just hear?'"

I think I know why the callers were in tears. The Christmas Truce story goes against most of what we have been taught about people. It gives us a glimpse of the world as we wish it could be and says, "This really happened once." It reminds us of those thoughts we keep hidden away, out of range of the TV and newspaper stories that tell us how trivial and mean human life is. It is like hearing that our deepest wishes really are true:

the world really could be different

.
So why were we fighting World War I in the first place? For the same REAL reason that we fought World War II, The Korean War, Vietnam, Gulf War I, and why we are now in Iraq: So they same group of intergenerational financial criminals can continue to make trillions of dollars at the expense of our dead sons and fathers by arming and controlling both sides of every conflict.
Reflect on the words of Marine Corp Major General Smedley Butler, winner of
TWO
Congressional Medals of Honor for the capture of Vera Cruz, Mexico in 1914 and at the time of his death the most decorated Marine in US History, and author of
War is a Racket
WAR is a racket. It always has been.

It is possibly the oldest, easily the most profitable, surely the most vicious. It is the only one international in scope. It is the only one in which the profits are reckoned in dollars and the losses in lives.

A racket is best described, I believe, as something that is not what it seems to the majority of the people. Only a small "inside" group knows what it is about. It is conducted for the benefit of the very few, at the expense of the very many. Out of war a few people make huge fortunes.

In the World War [I] a mere handful garnered the profits of the conflict. At least 21,000 new millionaires and billionaires were made in the United States during the World War. That many admitted their huge blood gains in their income tax returns. How many other war millionaires falsified their tax returns no one knows.

How many of these war millionaires shouldered a rifle? How many of them dug a trench? How many of them knew what it meant to go hungry in a rat-infested dug-out? How many of them spent sleepless, frightened nights, ducking shells and shrapnel and machine gun bullets? How many of them parried a bayonet thrust of an enemy? How many of them were wounded or killed in battle?

Out of war nations acquire additional territory, if they are victorious. They just take it. This newly acquired territory promptly is exploited by the few – the selfsame few who wrung dollars out of blood in the war. The general public shoulders the bill.

And what is this bill?

This bill renders a horrible accounting. Newly placed gravestones. Mangled bodies. Shattered minds. Broken hearts and homes. Economic instability. Depression and all its attendant miseries. Back-breaking taxation for generations and generations.

For a great many years, as a soldier, I had a suspicion that war was a racket; not until I retired to civil life did I fully realize it. Now that I see the international war clouds gathering, as they are today, I must face it and speak out.
Here is Major General Smedley Butler naming names in 1935:
I spent 33 years and four months in active military service and during that period I spent most of my time as a high class muscle man for Big Business, for Wall Street and the bankers. In short, I was a racketeer, a gangster for capitalism. I helped make Mexico and especially Tampico safe for American oil interests in 1914. I helped make Haiti and Cuba a decent place for the National City Bank boys to collect revenues in. I helped in the raping of half a dozen Central American republics for the benefit of Wall Street. I helped purify Nicaragua for the International Banking House of Brown Brothers in 1902–1912. I brought light to the Dominican Republic for the American sugar interests in 1916. I helped make Honduras right for the American fruit companies in 1903. In China in 1927 I helped see to it that Standard Oil went on its way unmolested.
So where are the Smedley Butlers of today? Where are the senior officers in the military and intelligence agencies with GUTS to step forward and tell the American people that there is no Al-CIA-duh?
Find the short and very readable
War is a Racket
Here:
http://lexrex.com/enlightened/articles/warisaracket.htm
More on the Christmas Truce Here:
http://www.lewrockwell.com/vance/vance27.html
Let's all raise a pint for Major General Smedley Butler this Christmas, remember the the soldiers that set down their weapons on the western front of World War I and embraced each other as the
BROTHERS
that we all are. Wishing everyone a Merry Christmas, Happy Hanukkah, Good Kwanza, and
Happy Festivus
and peace in 2006!! - Etienne