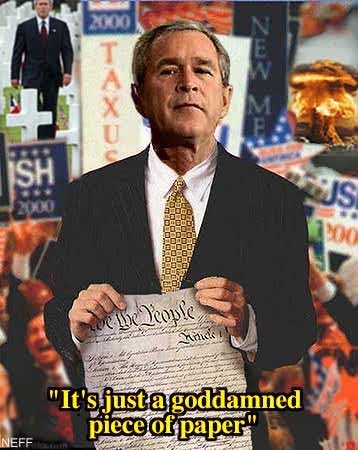 From the December 9th Blog of Doug Thompson, the Founder and Publisher of Capitol Hill Blue found Here:
http://www.capitolhillblue.com/artman/publish/article_7779.shtml
Last month, Republican Congressional leaders filed into the Oval Office to meet with President George W. Bush and talk about renewing the controversial USA Patriot Act.

Several provisions of the act, passed in the shell shocked period immediately following the 9/11 terrorist attacks, caused enough anger that liberal groups like the American Civil Liberties Union had joined forces with prominent conservatives like Phyllis Schlafly and Bob Barr to oppose renewal.

GOP leaders told Bush that his hardcore push to renew the more onerous provisions of the act could further alienate conservatives still mad at the President from his botched attempt to nominate White House Counsel Harriet Miers to the Supreme Court.

"I don't give a goddamn," Bush retorted. "I'm the President and the Commander-in-Chief. Do it my way."

"Mr. President," one aide in the meeting said. "There is a valid case that the provisions in this law undermine the Constitution."

"Stop throwing the Constitution in my face," Bush screamed back.

"It's just a goddamned piece of paper!"



I've talked to

three

people present for the meeting that day and they all confirm that the President of the United States called the Constitution

"a goddamned piece of paper."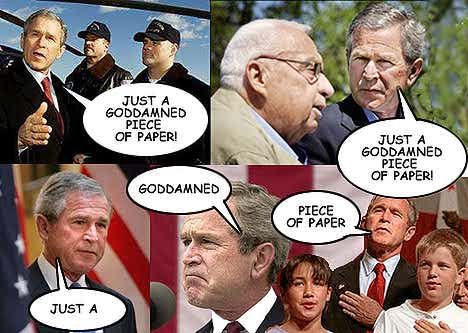 Doug Thompson revisited the topic on December 11th when some questioned the anonymity of the congressional sources
Here:
http://www.capitolhillblue.com/artman/publish/article_7787.shtml
We put our reputation on the line every time we publish a story that depends on information from anonymous sources. Sometimes we get burned and when we do we admit it publicly, take our well-deserved lumps, and move on.

In

2003

, we published reports that intelligence professionals had raised doubts about the existence of weapons of mass destruction in Iraq and questioned claims of a link between Saddam Hussein and Osama bin Laden. Our detractors claimed we made the whole thing up. Two years later, we were proven right.

Last year, when we published reports on the President's increasing temper tantrums, the doubters again claimed the reports were fantasy. Yet mainstream media outlets reported the same thing this year. We were right…and we got it first.

We were the first news outlet to identify the names of women who claimed sexual abuse by Bill Clinton when he was attorney general and later governor of Arkansas. We were the first news outlet to report on the ethical problems of many members of Congress in our series:

America's Criminal Class: The Congress of the United States

. And we were the first to report on the abuse of underage girls on teen model web sites. Links to all of these award-winning stories can be found on our home page.

That doesn't mean you should take everything we print as gospel. Never do that with us or any other news source. Do your own research and reach your own conclusions. And consider the record of the sources you use for news and information.

We've published more than 25,000 stories since going online on October 1, 1994, and we've had to retract two of them.

That's a record I'm willing to stand on.

So the next time somebody calls

Capitol Hill Blue

a "garbage site" or claims I'm a clown, ask them for their qualifications and background. Did they get their information from credible sources or some anonymous poster on a partisan bulletin board or a blogger with a political ax to grind?

My bio can be found on this link. I put my name on everything I write. And I stand behind what I write. I'm an arrogant, stubborn, driven bastard who takes no prisoners and backs down from no one.

When I'm wrong, I admit it. Thankfully, I haven't had to do that very often.

When I'm right I don't give a damn who doesn't like it or what they say about it.

An editor who taught me a lot once said: "If you piss off both sides you're doing your job."

That's good enough for me.
Doug Thompson
- Founder and Publisher of Capital Hill Blue
I believe Doug Thompson - Etienne